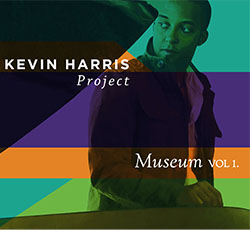 Kevin Harris: Piano, Rhodes
Kendall Eddy: Bass
Steve Langone: Drums
Richie Barshay: Drums
Jason Palmer: Trumpet
Rick DiMuzio: Tenor Sax
With his 4th album as a leader, 'Museum Vol 1' released in 2013, Harris presents a personal collection of concepts in song form.
Imagine a museum whose walls exhibit your most courageous dreams and your most challenging fears. In each room hang collections and recollections of continually changing architecture that perfectly frame your greatest adventures past, present, and future.
DownBeat gives it three stars and describes it as "overall smart, lyrical and engrossing".
The Phoenix chooses it as the "Editor's Pick" and highlights "tight/loose elasticity, the tension between form and freedom that was the hallmark of so many Miles Davis sessions with Shorter and Herbie Hancock . . . calm and collected, but also loose and full of surprises."
The initial release tour brings the ensemble to Panama, Copenhagen, Lima, Boston, New York, with thriving performances for both new and established fans.