For a brief or prolonged moment, a "pulse" can disturb or comfort any definition of status quo.
"P U L S E"  is an exciting and compelling through-composed chamber work combining improvised and fully notated music.
A distinctive trait of jazz pianist Kevin Harris is his desire to constantly grow, evolve, improve, and advance. His interest to interweave traditional and contemporary music styles, visual arts, electronic media, science, and language, is what distinguishes his music and what renders his performances unique experiences, meant to activate the audience's senses and personal curiosity.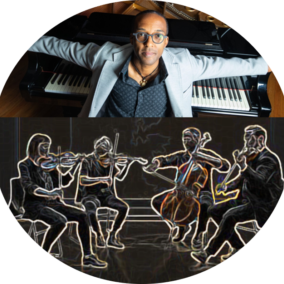 With this new composition, Harris chooses to celebrate the pulse that moves within us as individuals and as a collective community seeking to positively move society forward.
"P U L S E", is a compelling chamber composition for oboe, clarinet, violin, cello, acoustic bass, and piano, that aims to stretch repertoire and foster connection among disparate audiences using improvised and written music with jazz and classical musicians performing alongside each other.
Harris, with his fellow artists, endeavors to remind listeners of our personal and collective vibrations in search of equilibrium.
This project is made possible in part by a Live Arts Boston grant from the Boston Foundation
Next Performance: SATURDAY, AUGUST 19th, 6:00pm at Mission Hill Arts Festival
BUY TICKETS HERE
A modern symphony.
"CONTRALUZ" is a highly interactive compilation of an original repertoire featuring the dynamic and innovating artistic talents of KEVIN HARRIS & FABIO ROJAS.
It seeks to interpret a message of curiosity, persistence, courage, and exploration.
"CONTRALUZ", Spanish for "backlight", is an invitation to hold one's own truths and beliefs up to a backlight, to examine the new perspectives offered from a vantage point. An invitation to imaginatively shift one's views to see an alternative picture, reality, or truth.
In the same way that new viewpoints warrant unfolding possibilities, Harris and Rojas see this compelling project as a modern symphony that also, continuously, is unfolding.
"DOORWAYS"
A musical exploration of the Isabella Stewart Gardner Museum.
A through composed piece by pianist, composer, and educator, Kevin Harris for the Isabella Stewart Gardner Luminary Lens Series
The idea of Doorways formed with Harris noticing that some visitors at the Gardner Museum walked quickly from room to room mostly in anticipation of what was in the next room, while others sat patiently pondering the experience of the room they were presently in. This phenomenon caused Harris to also ponder to what degree Gardner chose for her visitors to not assimilate to the opinions and perspective of others, but instead patiently form opinions and perspectives of their own.
"The opportunity to explore and become acquainted with the Gardner was empowering" continued Harris. "Beyond considering what was aesthetically important, I sense that Gardner's true aim was to employ the power of the arts to expand her guests' stance and point of view in life."
Doorways is a through composed composition sounding out soulful melodies that surface and resurface in various keys and rhythms. These frequently changing tonalities and melodies represent our own continued evolution from room to room in our lives. Through the musical twists and turns of his composition, Harris desires that the listeners imagine their own evolving circumstances and make a masterpiece of each moment.
The Neighborhood Salon is a gathering of Boston's select artists and cultural luminaries.
Neighborhood Salon cohorts nurture an active exchange of ideas between Boston's most innovative and thoughtful creatives, fostering collaborations and artistic networks while shaping Gardner Museum programming.
Modeled after Isabella Stewart Gardner's legacy as a curator and hostess of artist salons around the turn of the century, the primary goal of the Neighborhood Salon is to exchange creative ideas and dialogue with Boston's most innovative and thoughtful luminaries as a means of informing programming at the Gardner.
The Neighborhood Salon is led by Rhea Vedro and Luana Morales.
TO STEVIE WITH LOVE @ THE CARR CENTER, DETROIT (MI) (February 2022)

A tribute concert to the musical genius of Stevie Wonder.
"TO STEVIE WITH LOVE" imagined the music of the Maestro through the lens of the New York jazz scene, with musical direction by three-time Grammy winning recording artist, drummer, composer, and educator Terri Lyne Carrington, who serves as The Carr Center's artistic director.
The performance featured musical arrangements by pianist Kevin Harris.
Special guests included Grammy-winning harmonica wizard Gregoire Maret, critically acclaimed vocalist Michael Mayo, silky soul vocalist and keyboard master, Frank McComb, the funky wizardry of guitarist Keyanna Hutchinson, and Detroit's own Dwight Adams, the trumpeter from Stevie Wonder's touring band.
Watch an excerpt here
"REFLECTIONS OF OUR TIME" - Live-streamed concert (February 2022)
With this project, pianist Kevin Harris and trumpeter Jason Palmer seek to bring light and power by creating a musical reflection of the times we live in.
There can be reflections of courage, innovation, and respect; and there can be reflections of racism, classism, sexism, and the like.
As we continue to see ourselves and society through new reflections and perspectives, the profound potential for positive action is limitless.
DON'T MISS THIS EXCEPTIONAL GROUP:
Watch the concert here
Kevin Harris, piano
Jason Palmer, trumpet
Cheryl Bailey, guitar
Francisco Mela, drums
Godwin Louis, alto saxophone
Max Ridley, acoustic bass