Beyond Talent:
CREATING A SUCCESSFUL CAREER IN MUSIC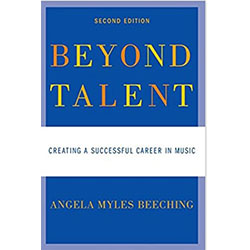 A book by Angela Beeching
"Beyond Talent is like the ultimate Swiss army knife for the young musician. Packed with savvy insights, sage advice, practical ideas and inspiring examples, this comprehensive guide delivers the tools to navigate a successful path in music no matter where it might lead."
-Phillip Ying, former President, Chamber Music America


Beyond Talent provides user-friendly real-life advice, examples, and perspectives on how to further a career in music. Understanding the unique talents and training of musicians, veteran music career counselor Angela Myles Beeching presents a wealth of creative solutions for career advancement in the highly competitive music industry.
Available on Amazon
© 2010 Angela Myles Beeching