A Few Honest Words:
THE KENTUCKY ROOTS OF POPOLAR MUSIC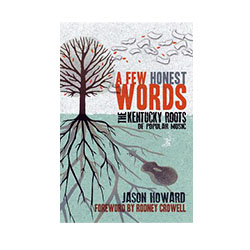 "Jason Howard has gathered up all those sweet Kentucky sounds and brought them home to a reunion."
-Michael Streissguth, author of "Johnny Cash: The Biography"
A Few Honest Words explores how Kentucky's landscape, culture, and traditions have influenced notable contemporary musicians. The book features intimate interviews with 14 artists through which, author Jason Howard, reveals the importance of the state and the Appalachian region to the creation and performance of music in America.
Available on Amazon
© 2012 Jason Howard